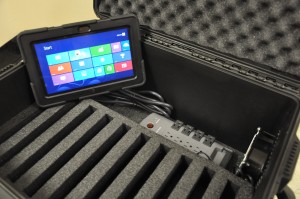 It should come as no surprise that there is an ever-increasing demand for competent forestry graduates; especially those who able to address complex economic, ecological, and social issues involving forest resources. However, Forestry is a traditional discipline and often finds itself challenged to educate students using 21st century technology and sciences to solve these new problems.
Last semester, a senior faculty and I proposed providing forestry undergraduate students with a redesigned, senior-level course in Ecosystem Assessment that would maximize the use of mobile technology with the following course objectives: 1) students will have enhanced, forestry-centered learning opportunities in both the field and classroom, 2)these experiences will improve the way students visualize spatial and temporal aspects of a forest resources and landscapes; and 3)ensure NAU's School of Forestry remains in the forefront of forestry education.
This Fall, in FOR 413 & 414C (Forest Ecosystem Assessment I & II) at NAU, 39 undergraduate students will be let loose carrying 20 Dell Latitude 10 tablets running Windows 8 to collect and analyze forest resource data from a 4-sq. mile area on NAU's Centennial Forest.  These data will be collected over a five-week period using a FVS-ready Access database for tabular data and ArcPad 10.2 with the tablet's built-in Global Navigation Satellite System (GNSS) for spatial data.
The students will use this technology to integrate material learned in prior forestry courses while learning and applying new concepts and skills focused on the interpretation of remotely sensed imagery, land records, and ownership limitations; use of geographic information systems (GIS) and field protocols for inventory of biophysical features; and simulation of potential stand development pathways.