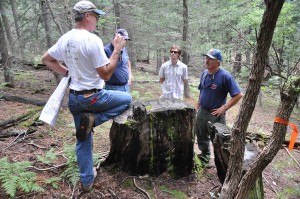 Friday of this past week we (myself, one of my graduate students, members of the ERI Outreach Staff and a Forest Service representative) spent the day scouting potential research sites along the Mogollon Rim, in the mixed-conifer forest type. These forests generally occur at elevations between 8000 to 10,000 feet and under natural conditions, their higher site productivity and open structure facilitates leads to a more diverse (as compared to pondersa pine) understory.
Depending on location and often aspect, Douglas-fir, white fir, blue spruce, and southwestern white pine will dominate the tree canopy, often with ponderosa pine clearly dominating on warmer slopes. Quaking aspen, bigtooth maple, and Gambel oak are also prominent in these forests. Fire histories in mixed-conifer forests vary with forest composition, landscape characteristics and human intervention, but have been shown to be mainly frequent surface fires to infrequent, patchy (yet small) crown fires with return intervals averaging around 10-15 years.
If all goes as planned (when does it?), this could be the location of a new LEARN site!